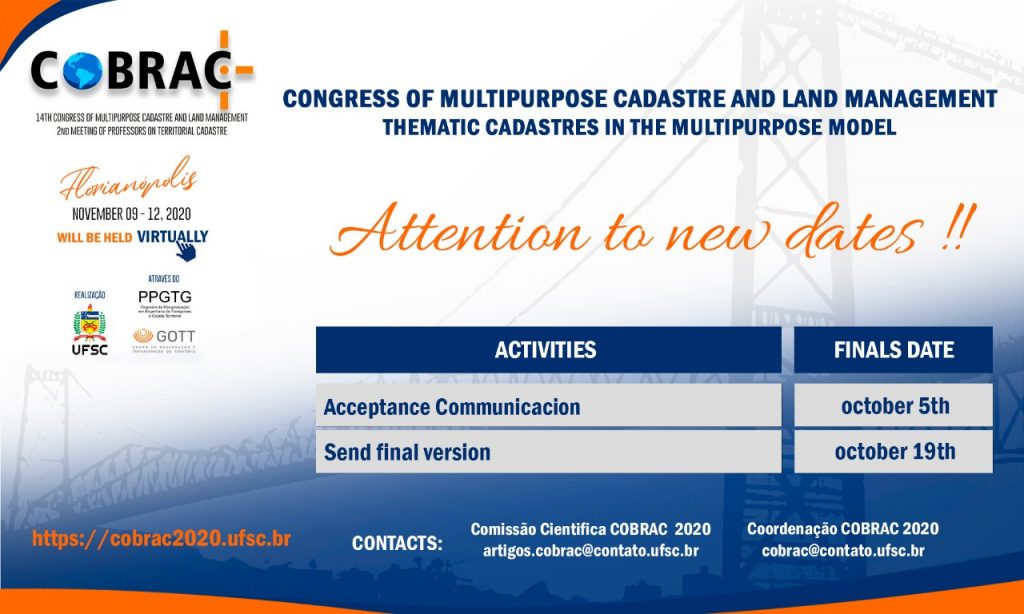 CLICK HERE ACCESS TO THE CONFERENCE MANAGEMENT SYSTEM
SEE HERE THE STEP BY STEP FOR REGISTRATION AND SUBMISSION OF ARTICLES IN THE CONFERENCE MANAGEMENT SYSTEM
SUBMISSION OF PAPERS:
Articles must be uploaded at the conference management system.
The template for formatting and the guide for submitting articles is available below (click on a version to download)::
INSTRUÇÕES PARA ELABORAÇÃO DE ARTIGOS CIENTÍFICOS PARA O 14º COBRAC_PORTUGUÊS
INSTRUCCIONES PARA ELABORACIÓN DE ARTÍCULOS CIENTÍFICOS PARA EL 14º COBRAC_ ESPAÑOL
INSTRUCTIONS FOR THE PREPARATION OF SCIENTIFIC ARTICLES FOR THE 14º COBRAC_ENGLISH
Articles in final form must submission the requests of ad-hoc consultants.
THEMATIC AREAS:
Territorial cadastre;
Thematic cadastres and their multipurposeness;
Technological development for the multipurpose cadastre;
Territorial management and land policy;
Professional practices and teaching in territorial cadastre; and
Territorial cadastre and geotechnologies in the fight against Covid-19 and other epidemic and pandemic diseases.
The details of these thematic areas are available here.